The S2P certification mark is impartial and well-known proof of the ability of both the person concerned and the company employing him or her to ensure the safety of playgrounds and recreational sports areas as required by the various tasks.
S2P certification offers a variety of scopes, from the qualifications required for maintenance and installation work to the qualifications required for risk assessments as part of annual inspections.
Person certification in accordance with ISO 17024 is based on international qualifications (TR 17207 and prISO 24665), offering the certified the opportunity to work in international projects.
The S2P certification schemes base on about 20 standards and technical reports that define the safety on playgrounds and recreational sports areas, e.g. EN 1176 (children's play equipment), EN 16630 (outdoor exercise equipment) and EN 15312 (ball-game arenas).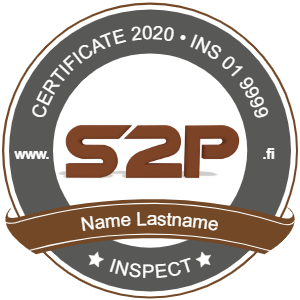 EUIPO 018417002
The S2P database contains always up-to-date list of both certified persons and the companies that employ them. Both are entitled to use S2P certification logos to demonstrate their abilities o ensure the safety.